Academic Symposium June 2019
Educational Foundations Academic Symposium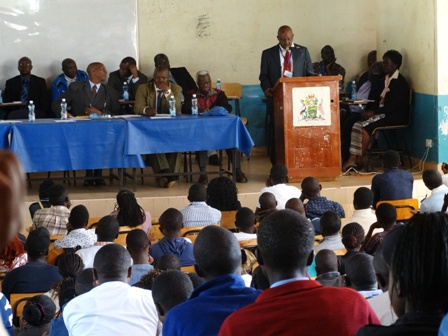 Principal's welcome Address to first years 2017/2018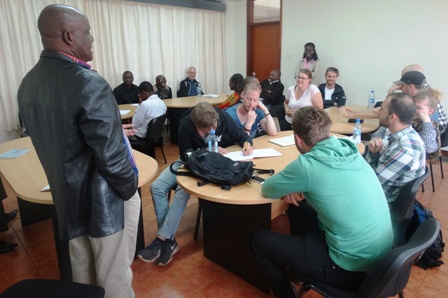 UoN&Linkoping University Exchange Program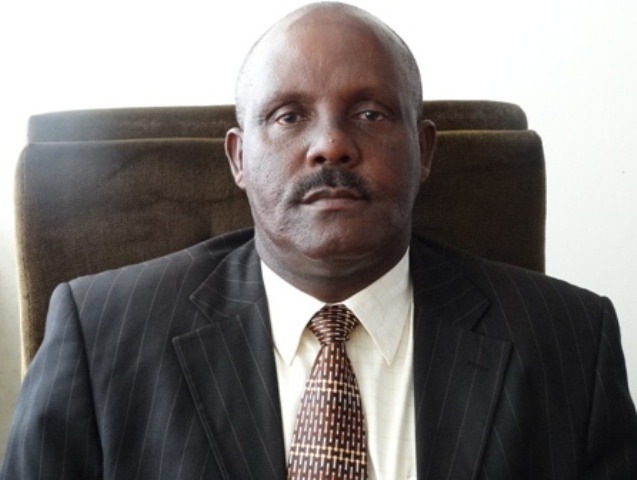 Announcement of New Chairman: Mr. Muasya Isaac.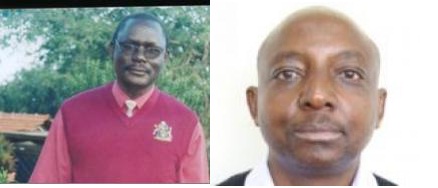 academic lecturers promotions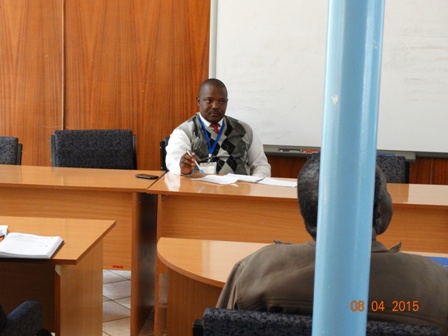 Africe Steering Committee
CEES students in exchange programme at linkoping University
DEPARTMENT REPRESENTED IN THE 5TH OPEN DAY
Submitted by fgatabu on Thu, 2014-05-15 09:17
Dr.Lewis Ngesu Takes The DVC A&F through the Proggrammes in the School Of Education.
The 5th open day, being held at the Great Court, Main Campus kicked off early Thursday. It was presided over by the Chancellor of the University of Nairobi, Dr Vijoo Rattansi who noted that the university is crucial in molding young minds, She said in her remarks that " it is the place where many future leaders spend their formative years gaining intellectual exposure and leadership skills, where those first crucial professional networks are made and where professionals return to for seminars, debates and advanced studies".
In his brief remarks, University of Nairobi Vice Chancellor, Prof Magoha noted that in the last 50 years, the University of Nairobi has produced thousands of graduates, many of whom have gone forth to make significant contributions to Kenya, the continent and the world over. The University takes pride in arming whoever walks in through her gates with the requisite knowledge, skills and the right attitude.
The Chairman Dr. Lewis Ngesu ,takes the DVC A&F Prof Mbithi through the School Of Education stand.
The Chairman of Council, Dr. Idle Farah expressed the commitment of the University to providing holistic education that guarantees success, noting that this was call to arms for the public, for all to take advantage to pursue knowledge wherever it may be found.Prospective students, parents and guardians have the advantage of interacting with faculty, and receiving information on holistic education provided by the University of Nairobi.
Paul Ejore , and Dr. Anne Assey Receive DVC A&F Prof . Mbithi at the School of Education stand
The three day event will end on May 10, 2014.
The College of Education in general and specifically the School of Education was well represented at the event. The well-equipped stand showcasing programmes offered in the School was visited by numerous guests. They included The Principal (CEES) Professor Isaac Jumba who commended the good work; Deputy Principal, Kenya Science Campus, Professor Horace Ochanda as well as the Registrar (CEES) Prospective students who included both the young and the old as well as internationals visited the stand. At hand to receive them were Dr Ibrahim Khatete, Dr Justus Inyega, Mr Cyrus Gitonga, Ms Redempta Nyambura( A Masters student) and Mr Lameck Omwoyo (Faculty Module 2 Representative) who gave them crucial information regarding programmes within the School
Below: The School of Education stand at the 5th Open Day